Staff
Executive Producer Johnnie Burrell
---
Executive Producer Johnnie Burrell
Johnnie Burrell is an independent internet television producer in San Francisco, California.
From 2007 to 2010, he hosted Johnnie Burrell Presents, which aired twice a month on cable television stations Channel 29 in San Francisco, California (now BAVC-Bay Area Video Coalition) and the Manhattan Neighborhood Network (MNN) in New York.
Johnnie's previous show was titled Enterviews and sought to expose San Francisco viewers to a wide variety of cultures and viewpoints. He has also produced films of numerous public and private events for a variety of clients.
Johnnie has 30-plus years of experience practicing and teaching martial arts, self-protection, and self-defense. He won a Gold Medal at the Pan American Karate Championships in Rio de Janeiro, Brazil, as a member of the United States Karate 'A' Team. These experiences led him to develop the concept of Selfprotectiontaishe, which he teaches in seminars and on a DVD that he filmed and produced. To learn more, please visit his Selfprotectiontaishe website.
Johnnie is a long-time member of the Screen Actors Guild (SAG) and the American Federation of Television and Radio Artists (AFTRA). You can see him on both the big and the small screen. He had a prominent role in Ralph Ellison's King of The Bingo Game (PBS).
He played James Caan's karate teacher in the feature film The Killer Elite, also starring Robert Duvall and directed by Sam Peckinpah. Film producer Tiana Alexandra (Thi Thanh Nga) played the part of James Caan's wife in the film. She's pictured here on the set with Johnnie. Her husband, screenwriter and producer Stirling Silliphant, wrote the screenplay for the film, in addition to screenplays for such Hollywood blockbuster films and television series as In the Heat of the Night, Route 66, Towering Inferno, The Poseidon Adventure, Naked City, Longstreet, and many others. Tiana was Bruce Lee's first and only female student. Stirling was also a student.
Johnnie's other activities include volunteering for the nonprofit Access Adventure, which provides wilderness and open space access for people with disabilities using innovative, wheelchair-accessible horsedrawn carriages.
Last but not least, Johnnie is also an accomplished disk-jockey and party-planner whose corporate and other clients have included People Magazine, American Express, Yahoo, Intel, KCBS radio (San Francisco), the international touring company of A Chorus Line, Stanford University, the Screen Actors Guild, Sun Microsystems, Pepsi-Cola, Prudential-Bache Securities, Genentech, San Francisco's historic John's Grill (home of the Maltese Falcon), Wilson, Sonsini, Goodrich & Rosati, Standard Oil, Macy's, Goodby Silverstein & Partners, Sheraton Hotel Fisherman's Wharf in San Francisco, General Electric, Autodesk, CBS5 San Francisco, and more. Click to read letters of appreciation from the Chorus Line touring company and People magazine.
The link that draws together all these paths he has taken is his passion for teaching self-empowerment and making connections between people and cultures.
General Manager Jerri Lange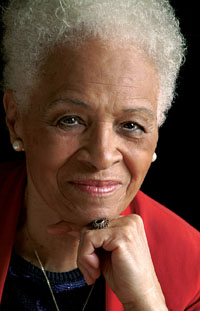 Jerri Lange has had a wealth of experience in television (both in front of the camera and behind the scenes). Her colorful career has yielded numerous awards in the field of broadcasting, and in April 1978 San Francisco State University issued its most prestigious honor, the Broadcast Preceptor Award, given by the Broadcast Communications Arts Department "in recognition of signal accomplishments, leadership and adherence to the highest standards in broadcasting" to three recipients: Walter Cronkite, Mike Wallace, and Jerri Lange.
Between 1969 and 1979, Jerri was host of a number of television programs in San Francisco which focused on community issues at KEMO, KBHK, KGO, and KQED (where she also served on the board). Jerri became the first black woman to host a national talk show, Turnabout, which was produced at the San Francisco public television station KQED and broadcast on 148 stations throughout the country.
Jerri was comfortable on camera, and comfortable interviewing superstars such as Shirley MacLaine, Sammy Davis, Jr., Rock Hudson, and others. On March 1, 1978 at KQED she was honored as "The Outstanding Broadcaster of the Year" by American Women in Radio and Television.

As a professor of Broadcast Communications Arts at San Francisco State University, Jerri taught Broadcasting and Affirmative Action, Women in Media, and Writing for Radio and Television. She also lectured a graduate class in Communications at Stanford University. She was granted an interview with Professor Arnold Tonybee, historian and member of the Royal Institute of International Studies in London.

Her credits also include special correspondent in Africa for the San Francisco Chronicle newspaper, where she worked as an editorial secretary for three years. After turning her talents to public relations, consulting, and editing, and publishing a magazine, she left California for Honolulu, Hawaii where she became writer, producer, and host at KHET-TV. She also published, designed, and created a unique multicultural magazine entitled Amberstar in 1985, celebrating and valuing diversity, a common thread throughout Jerri's life.

Jerri's volunteer works are many, including serving more than ten years on the Board of Directors of the American Lung Association (ALA) of San Francisco. She was elected the first woman President of the Board in ALA's 72-year history. She served in fundraising and public relations capacities for ALA on national, state, and local boards. She was elected Communications Chairperson of California, which served 26 affiliates throughout the state.

She served on the Oakland, California Symphony Board of Directors for 10 years and was elected to the KQED-TV Board of Directors for a three-year term. She also served on the Board of the Food Bank of Contra Costa and Solano Counties in California.
Jerri is the mother of three sons and success runs in the family. Ted Lange, star of the classic television series The Love Boat is enjoying a successful theatrical career; Michael Lange is a successful filmmaker and documentarian; and son James Cowan is a successful businessman. Jerri lives in Oakland, California and is back to doing what she does best, writing and producing television programs. Her latest book is titled A Black Woman's Life in the Media. Learn more about her book here.

Jerri has written numerous articles and speeches on the impact of the media on our lives. In a speech given in 2003 to the Consortium Of Doctors Conference in San Francisco she said: "Americans are deeply impacted by television and all forms of media, including movies, theatre, and print media. Our minds have been invaded and persuaded to buy products, try new things, and adapt new lifestyles. Sexual behavior is guided by television sitcoms, the Internet, movies, newspapers, and magazines. Our drug culture can be directly traced to music and other forms of entertainment now available to our youth. Our airwaves are polluted, comparable to those chemicals polluting our environment and endangering our health. Great psychological damage has been done by accessing our minds. Media is the delivery system."

Upon joining internationalmediatv.com in 2010, Jerri expanded on this idea, saying: "The challenge is to make media work for us, rather than against us. We can become more creative in using media to bring us together rather than tear us apart. We can neutralize the negative stereotypes and messages polluting our airwaves by creating a new media, one which keeps us in touch with each other, translates new ideas, and builds our own networks. If every organization had a media committee that kept track of television, movies, and print media, we could develop a newsletter and website that would keep organizations informed on what is going on in our media environment. At present our airwaves are being used to divide and conquer with mixed messages about family, race relations, promiscuity, and spiritual values, with confusing images that may entertain but certainly do not inform and educate. As the late Edward R. Murrow said: 'This medium can teach.' That is our goal at internationalmediatv.com."

Jerri is available for lectures, interviews, and book signings, local, national and international. Contact Johnnie for bookings.
Senior Producer Lin Robertson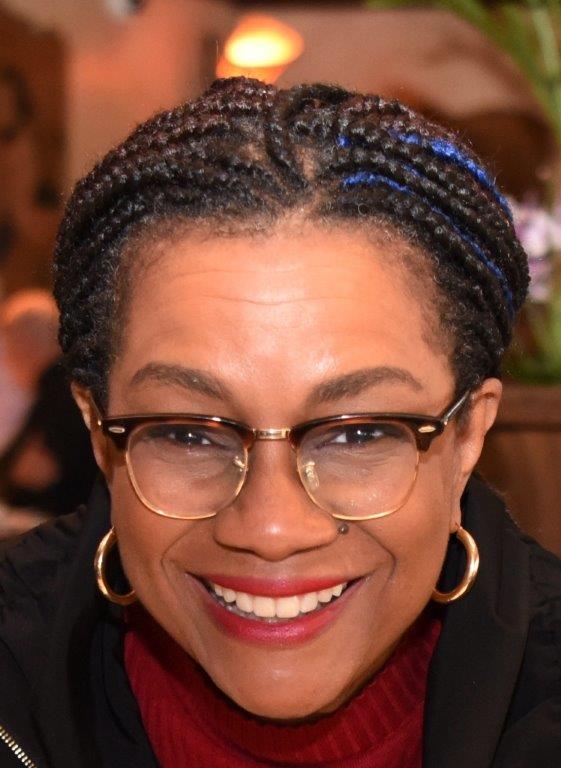 Email Lin
Community Advocate and Outreach Consultant Lin Robertson is proficient in five languages with extensive experience serving global communities on a "local" level.
Lin began her career in public service in 1996, when she was called to launch the Aruba Foreign Investment Agency (AFIA) with the support of the U. N. World Association of Investment Promotion Agencies and Holland's Ministry of the Interior and Kingdom Relations.
Lin was hired by Aruba's former Minister of Economic Affairs & Tourism, H.E. Robertico Croes, to determine the feasibility of, and eventually compose the proposal to launch, AFIA - a one-stop service agency. In that capacity, Lin trained local staff of public and private agencies to work as a team to better serve international customers; as well as foster partnerships between foreign investors, the Government of Aruba, local business, and local residents. Lin coordinated and led community outreach and townhall meetings; wrote articles for various print media; appeared on TeleAruba to introduce public information to her island community; and made public presentations to audiences in different venues that could facilitate the implementation of redevelopment projects in areas in need of a socio-economic facelift.
Lin continued this important work until she moved to California's Silicon Valley in December of 1998 where she would work for the City of San Jose in the Department of Public Works' Office of Equality Assurance. Eventually she would open The Labor Compliance Managers (TLCM) – a consulting agency - in 2005.
On April 28, 2010, TLCM opened their first office as an LBE, WBE and MBE in San Francisco, at 4911 3rd Street in the Bayview Hunters Point community where she met Dr. Espanola Jackson. Dr. Jackson was a dynamic force of energy who also shared Lin's commitment to community service. She worked tirelessly to advocate for positive changes that could lead to economic development especially within her neighborhood. She often called on TLCM to help her do needed research before writing candid letters about her community's concerns to City officials. She was clear. She wanted change, and she wanted it now. Too many in her community were without jobs, despite the vast number of construction projects evident all over San Francisco.
Because of people like Espanola, today San Francisco has a Local Hire mandate that was approved in December of 2010, as well as a Community Benefits Policy (SFPUC Commission Resolution No.11-0008) that was enacted on January 11, 2011.
Espanola passed away January 26th, 2016, but her legacy continues. TLCM is one among various agencies that provides much needed services to promote local hire, workforce development, and labor compliance enforcement in the Bayview and other similar locations in San Francisco.
Additional examples of work completed by TLCM that promotes and facilitates public service where it is most needed include:
a) The successful completion of a first of its kind Jobs Training and Opportunities Program focused on Professional Services in which TLCM was able to support the SFPUC in collaboration with community based organizations to make trainees job-ready for entry level positions in construction administration. The 13-week course which ended on November 17, 2017, celebrated successful course completion by the first Cohort 1 group.
b) Multiple training conferences sponsored by the Northern California Carpenters Regional Council at their Apprenticeship training facility in 2004 and 2014, in collaboration with the U.S. Department of Housing & Urban Development (HUD) and the U.S. Department of Labor (DOL). Targeted audiences included public managers, contractors, construction workers, union representatives, and community advocates.
c) Multiple training conferences hosted by the San Francisco Unified School District (SFUSD) from 2007 through 2016 to teach contractors how to effectively comply with the District's labor compliance rules, so that they remain qualified as responsible bidders that could benefit from local public work projects. Audience included small businesses who had limited experience in public works and/or the usage of web-based programs to report the payment of prevailing wages.
d) Multiple training conferences sponsored by the Department of Industrial Relation (DIR) in 2007 & 2008 that were coordinated by the Fresno Training Institute. Targeted audiences in Northern as well as Southern California were introduced to the minimum standards of compliance per the California Labor Code. While enforcement procedures have changed since those seminars were conducted, many of the requirements still hold true today.
Lin's professional expertise also includes extensive knowledge in Federal Davis-Bacon prevailing wage laws that may apply on certain SSIP and WSIP projects currently being implemented by the SFPUC. She is an auditor often hired to ensure that public and private clients are following compliance rules, and that workers found on her watch are paid what they are due. Since opening her consulting agency in 2005, Lin and her team have collected well over $5 million in previously underpaid wages to construction workers on various housing, school, infrastructure, transportation, hospital and other public work projects subject to local, State and Federal labor compliance rules. For additional information about TLCM, visit thelaborcompliancemanagers.com.
Lin's goal is to record important information not often made available to the public about workforce development and protections, as well as LBE, WBE, MBE, DBE and SBE business opportunities, that are already in place to enhance local economies. As a Senior Producer at internationalmediatv.com, Lin will be producing important online content similar to that shown in the following links:
https://www.youtube.com/watch?v=ws70QQLFy5s
https://www.youtube.com/watch?v=5SyenoxU_Hw
https://www.youtube.com/watch?v=zhdfoyrA890
https://www.youtube.com/watch?v=jzVFx6IPFvE
With Lin's help, we will continue to provide stories about public housing, community development, workforce training, labor standards enforcement, and related news as it occurs nationally and internationally. Stay tuned!
---